The editor of Y Negesydd is Vivien Bosley. Please send submissions This email address is being protected from spambots. You need JavaScript enabled to view it.
_______________________________________________________________________________
Important dates:
August 3 - 5, 2013.
Heritage Days, Hawrelak Park
Saturday, August 3, Noon to 9.00pm
Sunday, August 4, 10.00am to 9.00pm
Monday, August 5, 10.00am to 7.00pm
******************************************************************
Friday, September 13, 2013
Welcome Wine and Cheese Party
and Special Resolution Meeting
7.00pm at
Park Towers, 9908 - 114 Street, Edmonton
******************************************************************
Friday, November 1, 2013
Pot Luck Supper
6.30pm at
South East Edmonton Seniors Association.
9350 - 82 Street, Edmonton.
******************************************************************
Sunday, December 8, 2013.
Christmas Carols and Tea.
2.00pm in
the Lounge, Knox Metropolitan United Church
8307 - 109 St. Edmonton.
******************************************************************
President's Corner
Just a quick update.
It was my loss that I missed the Spring Concert! Everyone who attended the Concert reported that it was a fantastic event. See following report. 
The 2013 Annual General Meeting was held on April 26. A copy of my report was sent out to you previously. The members of the Board of Directors have not changed: President, Eluned Smith; Vice-President, Maggie Dower; Treasurer, Barbara Sinn; Secretary, Glynys Hohmann; Membership Secretary; Nance Smith; Past President, John Isitt; Directors: Ieuan Evans, Linda Franklin, Bethan Franklin, Marilyn Isitt, Sue North and Mike Tomlinson. Your Board members work well together and each of them makes significant contributions to the functioning of the Society. Once again I would like all of you to consider joining the Board next year. You are welcome to attend any of the Board meetings.
The Heritage Festival is rapidly approaching. The Welsh Cakes are made and the volunteers are being recruited. I look forward to seeing everyone at the Heritage Festival.
Cheers,
Eluned Smith
******************************************************************
A Celebration of Wales.
We thought that this year we'd try something different from the Gymanfa Ganu, as numbers have been dwindling for the last few years. So the Celebration of Wales was the new initiative. As it was a new idea, we weren't sure how well it would go down, so we were all a bit stunned by its success. There were over 100 people present and donations to the Children's hospital amounted to over $600. We were very lucky in having amazingly talented participants. Four members of the Edmonton Opera Chorus - Ann Parry, Linda Farrah Basford, Jodie Penner and Daniel Rowley sang various solos and combinations - mainly in Welsh - accompanied sometimes, by harp, guitar and recorder. The Cantilon Youth Choir are no strangers to Welsh as they have been to the International Eisteddfod in Llangollen more than once, and last time were winners in their category. Small wonder, therefore, that their Welsh was excellent, and their singing quite magical. Gordon Ritchie with his Celtic harp played and sang lovely Celtic music and Warren Mack played one of his original arrangements on the splendid organ in Knox Metropolitan United Church. Mike Smith provided an amusing talk about the Joneses; Lynn Davies introduced Dylan Thomas and read one of his poems, and yours truly recited the beginning of 'Under Milk Wood' and triedto keep the whole thing together as MC. As a gesture to the old days, we all sang a couple of Welsh hymns and raised the roof! The whole thing was filmed by ONMI television, so we're digitally immortalized! Tea and Welshcakes, Marilyn's bara brith and tiesen lap were served afterwards. No wonder people in the audience said they were looking forward to the next one already!
Vivien
******************************************************************
CWRS MADOC
Maggie Dower and I were the two members who were sponsored by the Society at the Cwrs Madog in Elmhurst College near Chicago. Although numbers were down this year (something that exercises members of the Board, among them both Maggie and myself), there were several new faces among the people who attended. The campus of Elmhurst College is small and pleasant and situated in a delightful, leafy suburb (I suppose you'd call it) of Chicago. It really is a very intensive week, and for members of the Board, who meet over lunchtime every day, there is absolutely no down time. Classes run throughout the day; they are followed by workshops, then there's choir practice and every evening has an activity. Maggie and I are both in Level 6 (of 7 levels), which was taught this year by Mark Stonelake from Swansea University. The three tutors from Wales (Mark, Chris Reynolds and Angharad Devonald) are very experienced in teaching Welsh to adults and provide stimulating and useful materials. The most difficult part for me, as I have absolutely no experience at listening to Welsh, was the tapes of normal conversations. Much too fast and much too colloquial!!
I went faithfully to a workshop every day: one on Ancient Celts, one on Welsh folk music and an excellent one on contemporary Welsh affairs. Angharad is a script-writer for 'Pobl y Cwm' the very successful Welsh soap opera, so in her workshop we invent mini-scenes based on characters and situations we invent ourselves. All very good fun. As usual there was Welsh folk dancing, a quiz (at a rather distant pub; I still have the scar from the blister I got walking endlessly after getting lost on my way there) a games night with Scrabble in Welsh and so on, and the Eisteddfod. This year, the winner of the Chair was Ceri Eagling, who was raised in Neath, for her story about 'The Wind', which was the title of the contest in the Windy City. Two evenings were most memorable: there is always a film night. This year there were two films: one about the last performance of a pair of entertainers, Ryan and Ronnie who were immensely successful in the 60's and 70's. It was quite interesting, but paled in comparison to the documentary called 'Murray the Hump', which was quite extraordinary. It turns out that the subject of the film, Murray Humphreys, who was the right hand man of Al Capone in Chicago during the Prohibition years, is the third cousin of Dafydd Wigley, head of Plaid Cymru. Wigley found this out rather by accident and did extensive research about it, Murray the Hump was a handsome, intelligent gangster who managed to talk his way into a vast fortune, with several large hotels in Las Vegas and close friendships with many of the stars there. His daughter's partner at her graduation was Frank Sinatra!! Humphreys, with his close connection to the Kennedy family, was instrumental in getting John Kennedy elected, and fascinating hints were dropped about an earlier marriage of JFK and about the possible implication of Humphreys in his murder. There was extensive use of archival film as well as interviews with people who lived near the family birthplace in Montgomeryshire, all of which added up to a most absorbing movie. 
The other great evening was the last one - the Noson Lawen. The astonishing thing about that was the wealth of talent among participants - lovely voices, clever musicianship, and amazing wit among all the classes in their skits. I wish the Noson Lawen was on the first night, so that we know more about the very interesting people we were spending a week with.
The annual trip was to Oak Park where we visited Frank Lloyd Wright's house, which Maggie wrote about for the Cwrs newsletter (see below) . It turns out that his motto was 'Y wirionaeth yn erbyn y byd' (Truth against the World) which is used during the Gorsedd ceremony at the national Eisteddfod. It really is a most stimulating week, packed with all kinds of good Welsh things. Next year it's in Brock University in St Catherine's, Ontario (right near Niagara Falls). Do think of coming.
Vivien
******************************************************************
The Frank Lloyd Wright Home and Studio
The tour was of the first house Frank Lloyd Wright built for himself with money he had borrowed from his building contractor boss.  The home started as a shingled house and it was here he developed his views about breaking up the boxed closed rooms of the Victorian era. His ideas were very revolutionary at the time. 
The tour started in the living room. He located the fireplace so that it created a small intimate space when he entertained his friends. 
We then moved on to the dining room with its table and high backed chairs. Above the table was a decorative screen covering the sole lighting in the room. This was the first use of a drop ceiling. When the house was built, steam was piped under the Chicago roads during the winter and fed into the houses.  Frank Lloyd Wright, with the use of wood and canvas, hid the radiators, leaving a gap at floor level for the heat to escape. He pre-wired the house so that he could have electrical lighting and there was no evidence that gas had ever been used in the home. 
Upstairs we were shown the children's bedroom, which was his original workshop. When his family increased the room was divided by a partition into boys' and girls' rooms. The partition didn't reach the arched ceiling so that the rooms did not feel boxed in.  Apparently the children used to throw pillows over the partition, and even the poor cat! 
We then went into the master bedroom which had murals on two walls of Native Americans that looked more like ancient Egyptians. The room had beautiful windows with coloured glass inlays. Frank Lloyd Wright was a collector of beautiful objects and was particularly drawn to Japanese art.  
We glimpsed the only bathroom in the house as we proceeded along the passageway to the children's playroom. Frank Lloyd Wright had compressed the walls of the passageway so it seemed to get smaller and then suddenly you entered a wide open space. I think this was the best room in the house - it was bright with windows on either side with wide window seats. It had a gallery at one end where the railing mimicked an abacus. He had made a recess for a piano which extended out over the stairs. 
From here we went downstairs to his studio, which was a later addition to the house. It was light and used many of his innovations, such as the suspended gallery, where artists like furniture makers worked. Below were draughtsman's tables and a large safe to hold his drawings and valuables in case of fire. 
It was in this house that he developed his 'Prairie School ' ideas.  At the time he looked on to open prairie and this must have been his inspiration. Frank Lloyd Wright had a unique view of lighting and used different configurations to give a house the feeling of openness which has never been used before. 
Maggie Dower.
******************************************************************
A Trip to Normandy
When I took my grandsons to Normandy a few weeks ago, I wasn't expecting to find any Welsh connection, but to my astonishment I found one. We were renting a house in Ouistreham on the Normandy coast. It's the port for the ferry from Portsmouth in England, so I imagine most people just dash straight through it without a second look. We, however, had booked the house at the very last minute (that very day, in fact) so were grateful to get anything - especially the very nice house in a lovely garden that we got. I found the little town centre quite charming, with its café and bakery and deli - and of course, its church right in the centre. It turns out to be one of the oldest churches in Normandy, so I was happy to see it on that account. I had translated the war-time diary of the grandmother of a friend who lived in Normandy during the war so I know the damage was quite horrendous. How the church managed to survive the bombing and shelling was not explained. It looks in perfectly good shape now and my son and I wandered round looking at the stained glass windows that had been donated by various regiments of the British armed forces. Imagine my surprise when I came across a plaque with the following inscription: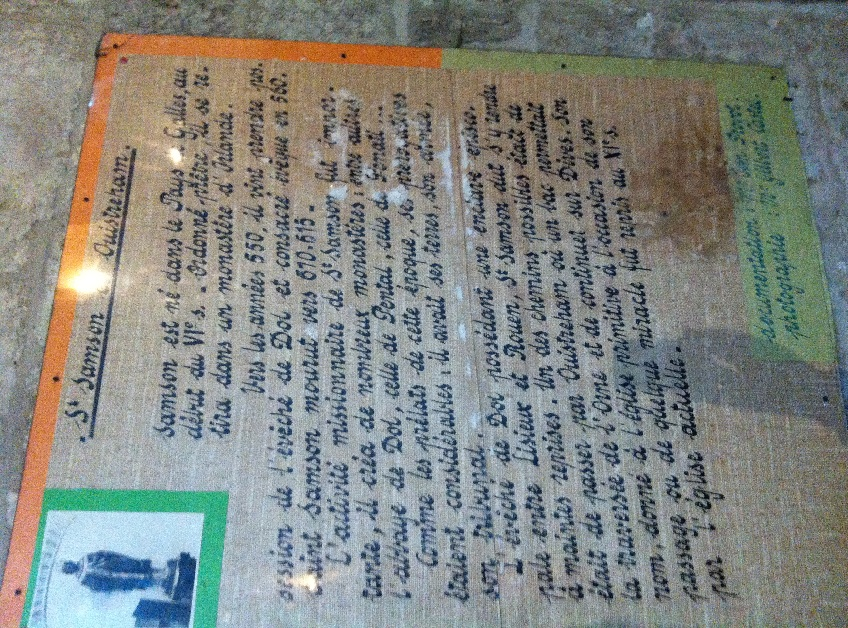 "St Samson Ouistreham. St Samson was born in Wales at the beginning of the VI century. After his ordination as priest, he retired to a monastery in Ireland. Some time round 550 he came to take possession of the bishopric of Dol and was made bishop round 510-515. 
His work as a missionary was of great importance; he created several monasteries, among them the abbey of Dol and those of Pental and Penati" 
Like all prelates of his time he exercised considerable prerogatives; he owned lands, an army an a court of justice. 
As he often had to travel through Ouistreham...his name was given to the original church, either because he crossed the river here or because he performed some miracle, and was revived by the present-day church in the eleventh century. 
How nice to discover the worldly success of a Welshman at such an early date!
Vivien